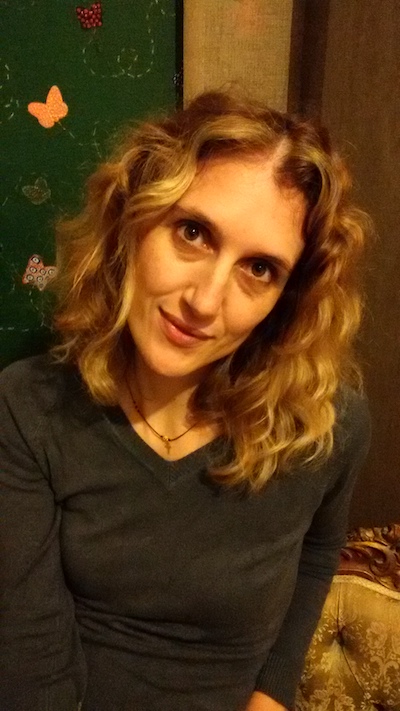 Eleni Pehlivani's artwork is inspired by her Greek origins, specifically Komotini: a unique multicultural city bathed in vibrant color, stemming from religious and cultural diversity, including rich Asian stimuli.
Her work is adorned with elements from her roots and heritage, weaving ribbons of dream-like interventions into reality.
She invites us into her multihued acrobatic playground with religious offerings and golden peels of prayer, sweeping across the canvas like brush strokes of magical childhood memories. Avant-gardism entangles with tradition, and multiple cultures intertwine, creating a colorful world of diversity and a future of shared progress.
Biography
Eleni Pechlivani was born in 1978.
She studied painting at the School of Fine Arts in Athens, Greece, under professors G.Psychopaidis and A.Christakis, and graduated in September 2009.
Her studies consisted of Engraving, Set Design, and Photography.
In March and October 2010, she orchestrated a visual art project for children aged 5-7 and 8-12 at the Benaki Museum, and in February 2011, a visual art project for children aged 5-7 and 8-12 at the Museum of Islamic Art.
In June 2019 she orchestrated a Summer camp for children ages 5-8 at the Benaki Museum.
In 2007 Eleni took part n the Erasmus exchange program, traveling to Germany to attend courses in painting at the Art and Design University of Halle.
She has held five solo exhibitions:
2018, Papanikolaou Foundation (Komotini-Greece),
2018, Gallery "7" (Kolonaki-Athens)
2013, Papanikolaou Foundation (Komotini, Greece),
2011, Polychoro Metaixmio (Hippocrates, Athens),
2010, Gallery "7" (Kolonaki, Athens),
She has participated in multiple group exhibitions, including:
2021 "…άμα ήχησεν η γλυκεία φωνή…" Municipal Gallery of Corinth-Curation:Iris Kritkou
2021 "I Miss You" Merimna-Curation:Iris Kritikou
2021 "Anniversary" Gallery ArteVisione-Curation:Iris Kritikou
2021 Platforms project 2021-Independent Art Fair
2020, Platforms project 2020-Independent Art Fair
2020, International Meeting of Contemporary Art "ART ATHINA"
2019, Platforms project 2019-Independent Art Fair
2018, Platforms project 2018-Independent Art Fair
2015, Group exhibition, "Make a wish Greece".Orchestrated by "Art Links Wishes 2015".
2015, Selected to participate in two Athens-based Pediatric Hospitals renovation projects, "St. Sophia" and "Aglaia Kyriakou"
2015, "Magical Journey, Εlsewhere" Gallery "7"
2014, "Child and Play in Life and Art" Municipal Cultural Center of Athens, Foundation Melina
2012, Selected as a participant in the 5th International Art Biennale in Beijing, China 2012 themed "Future and Reality"
2012, Exhibition of Eleni Pehlivani-Kostantinidis Savas.BRIKI, Serres Greece
2011, awarded 1st prize in the art contest themed "Woman" held in memory of the founder of K.Andreou (19172007), sculptor, painter, and engraver of the Public Benefit Foundation "Konstantinos Andreou
2011, "Gallery 7" participant in the 17th edition of the International Meeting of Contemporary Art "ART ATHINA" attended by 58 galleries from 9 countries (England, Belgium, France, Germany, Switzerland, Greece, Japan, Italy, Cyprus) with works from over 350 artists and 40 organizations associated with contemporary art (museums, institutions, art publications, and media).
2010, Selected as the representative artist for Greece in the World Cup 2010 in South Africa.
2009, The Michael Cacoyannis Foundation, "Sinefil-Cinephile 14 artists go cinema "
2009, Placing 3rd in a Poster Competition for Road Courtesy and Conduct Roads
2008, "Gypsy" Technopolis Park-City of Athens
2007, "8 Women" CHIOS
2007, Exhibition of Photography in BIOS-ATHENS
2007, "Child" Pedon Hospital
2005, Exhibition of Engraving ASFA
She resides and works in Athens.